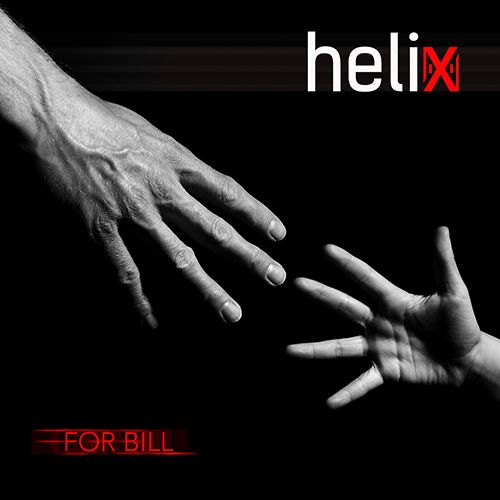 New Charity Single from Helix
I hope everyone's new Year is off to a good start.  We're hitting 2023 running with a new standalone track from Helix called "For Bill", out exclusively on Bandcamp on February 3rd.  All proceeds from the single go to the surviving family of Mari's dear friend Bill, who took his life this past November and left behind two young daughters and his wife.

Here's what Mari had to say: "Bill was the first person in my life to truly believe in me and my skill as a musician, he was one of my first bandmates. We played together side by side on stage when only church basements would book us because we were only 15. He was an excellent bassist, electric to watch, even as a kid. However, Bill held a lot of sadness and he did this behind a big bright laugh and smiling bright blue eyes. He didn't want to talk about those types of things ever but he truly was a kid with the world on his shoulders. 
We lost touch as we grew older and each went our separate ways. However, last October 2022, out of the blue Bill surprised me and came to see me perform. I cried when I saw him. Here was my past, here was 15, here was that spark that started it all. I hugged him over and over and told him how much it meant to me that he could have come to see. I told him all of the wonderful journeys music has taken me on, how grateful I was for his belief in me all those years ago. That I even met my handsome, talented, amazing husband due to the fact that I never gave up on my dreams. He smiled so big, that smile I always knew and loved and told me how proud he was of me. That meant everything to me to hear that. I walked away from that evening at a loss for words of how lucky I was to see my old friend again. 
A month later, I read the crushing news that Bill had died and it felt like the wind was knocked out of me. Bill had taken his own life. You know I ran our conversations over and over in my mind. I should have known, I should have reached out more. So many questions you are left with after that. It's such a dark, confusing place to be in and will always be."

The single will come out exclusively on Bandcamp on Friday, February 3rd. The track will cost $1, but supporters are welcome to pay more, if they wish. All proceeds go to Bill's wife and daughters. Pre-orders are open now at: https://helix.bandcamp.com